Tired and outdated, this pool was in need of updating and repair.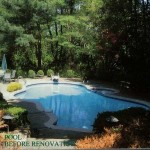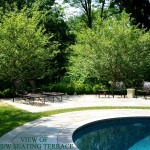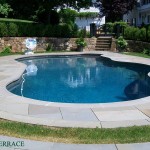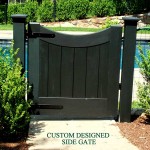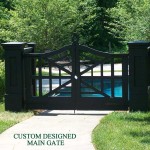 Organic in shape with a concrete pool deck and bright blue, this pool was renovated to a more classic look.
The concrete pool deck was removed and reconfigured to an oval shape with decorative bluestone paving.
A crescent shaped seating terrace, large enough for lounge chairs and a table, was added to the end of the pool terrace that had the greatest sun exposure.
The interior of the pool was re-plastered in gray to give a deeper blue color to the water.
Hedging and custom-designed gates enclose the pool area, giving it privacy and separation from the rest of the yard.
Existing overgrown trees and shrubs were pruned, removed, and relocated to open up the area around the pool and bring in more sun.
New plant materials were installed to compliment the new layout of the terraces.